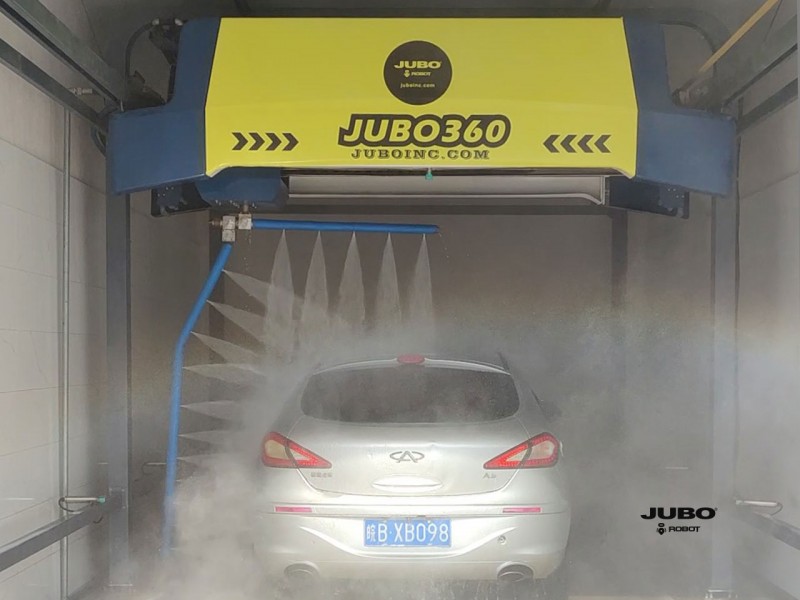  
Touchless car wash machine JUBO360
Delivered within 20-40 business days
TOUCHLESS CAR WASH SYSTEM - JUBO 360
Model: TL360, Type: In-bay automatic touchless (IBA Touchless)
Your personal information securely protected!

Delivery assured as agreed!

Online sales for more details +86 18005730492
TOUCHLESS CAR WASH SYSTEM - JUBO 360
Model: TL360, Type: In-bay automatic touchless (IBA Touchless)
Description
Higher Quality + Increased Revenue + Reduced Costs = Better Return!
JUBO360 has been long-term improved in in-bay automatic vehicle wash industry.
JUBO is dedicated to providing wash operators with the most simple, sophisticated, innovative equipment with features of Performance, Reliability and Quality. The JUBO360 raises the standard again with new revenue-enhancement features and total cost-of-ownership improvements that offers wash owners the opportunity to own a consistent revenue-create car wash machine
JUBO 360, Automatic car wash system, Touchless vehicle wash system, High-pressure wash system, with sector nozzles on 360 spray arm to form a high-pressure water blade to clean vehicles (mini, sedans, SUV, MPV etc.) – Combined with functions of HP Chassis wash, HP 360 wash, tri-color foam, Pre-soak, Hot wax, Spotless water, Dryer.
Features
Anti-corrosive Hot-dipped galvanized steel & Stainless steel material
Corrosion-Resistant Bridge & Trolley
Smart 360 Technology (with: Smart Networking, Smart Dwell)
Automatic Obstacle Guidance
In-Bay LED screen indicator
Pump Station
Smart Arch Control, Smart Drying System and Smart Cleaning System
Virtual Treadle
Electrical Control Panels
LED Lavafall
Anti-corrosive metering pump
Fully Loaded E-Chain & Bulkhead Manifold
Ultimate Cover Package
Advanced Arch Package
Electric High Pressure Gatling Spray Nozzles
High Pressure Side Combo Blasters
Free Standing Frame
Spot Free Rinse Application
Wash Activation Entry Terminals
High Pressure Rinse Arch
Electricity and power supply
3PHASE 380V 50HZ 25kW, 66A
3PHASE 220V 60HZ 25kW,115A
Electrical system
French Schneider
Min installation dimensions
L8000 x W3700 x H 3500mm
L26.3 x W12.2 x H11.5ft
Max washing vehicle dimensions
L6000 x W2100 x H2100mm
Material
Hot dipped galvanized steel, Stainless steel 304
Water pressure
100~130Bar
Dryer
5.5kw x 4 = 7.5HP x 4
3D Detecting system
German Pepperl+Fuchs ultrasound
Drive system
Timing transmission + VFD
Wash speed
2-8minutes/car, adjustable
Chemical consumption
0.02~0.08L/car, adjustable
Deployment
Deployed for outdoor wash stations or single in-bay wash store, several self-serve wash bays and single automatic touchless car wash system will be a good idea to work together. Steel frame or wall mounted both works.
Application
Mini
Sedan
SUV
MPV
Pickup-Truck
FAQ - frequently asked questions
What material of the JUBO360 touchless car wash frame?
Answer: It is hot galvanized steel, some kits made of stainless steel 304 which is non-corrosive material for car wash rusty environment.
What is the high pressure water pump motor power consumption?
Answer: it is 22kw motor.
Can i wash large-size SUV/MPV/PICK-UP?
Answer: The JUBO360 arm allows to wash height max 2100mm, so as long as the height is less than max is ok. 
What is the min room dimentions required to mount the JUBO360?
Answer: L8000 X W3700 X H3500 mm
Can the JUBO360 car wash machine installed in an open public area without roofing?
Answer: Yes can, but better make a simple shelter on the frame so to protect the system. Polycarbonate roofing or aluminum roofing or steel panel is ok.
Differences among touchless car wash models
"●" include "○"optional "/" none
| Items | jubo360 | ventus | parvus |
| --- | --- | --- | --- |
| Chassis jet | ● | ● | ● |
| Side combo jet | ● | ● | ● |
| Presoak A | ● | ● | ● |
| Presoak B | ○ | ○ | ○ |
| Tri-color foam | ● | ○ | ○ |
| One-color foam | ○ | ● | ○ |
| Foamfall | ○ | ○ | ○ |
| HP water | ● | ● | ● |
| RainX | ● | ● | ○ |
| Dryer | ● | ● | ○ |
| Gatling jet | ○ | ○ | ○ |
| Led screen | ● | ○ | ○ |
| Spot Free | ○ | ○ | ○ |
| Osmossis | ○ | ○ | ○ |
| WheelMaster | ○ | ○ | ○ |
| 360Arm protection | ● | ● | ● |
| Car length detect | ● | ● | ● |
| Car width detect | ● | / | / |
| Failure alarm | ● | ● | ● |
| E-Chain | ● | / | / |
| Terminal control | ● | ● | ● |
| Touchscreen | ● | ○ | ○ |
| Frame | ● | ● | ● |
Catalog

Data sheet
Power supply

3PHASE 380V 50HZ, 25kW

Electrical panel

French Schneider

Min installation dimensions

L8000 x W3700 x H 3500mm

Max washing vehicle dimensions

L6000 x W2600 x H2100mm

Material

Hot galvanized steel

Water apply

100~130Bar, 80-130L/min

Dryer

5.5kw x 4 integrated

Wash speed

2-8minutes/car, adjustable

Chemical consumption

0.02~0.08L/car, adjustable